Get Started with Social Media Marketing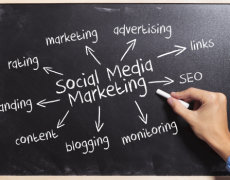 Social media marketing is a "Big Boon" for all the entrepreneurs. Some of them were aware of it and using it in a very efficient way. But some were think it as a puzzle and are reluctant to solve it to gain the treasures (customers, partners, dealers, profit) behind it. Lets discuss that maze. Before discussing about social media marketing, let us know about its root "Social Media".
Social Media
Social Media is a collection of Internet-based, advanced form of communication channel build on the basis of Web-based ideas and techniques, which is in-hand of all the people to create, share and enhance their ideas. It is an user-friendly platform for marketing, with which the user can expose his inventions and innovations to the world. Using this feature in the marketing, we can do efficient social media marketing.
Social Media Marketing
Social media marketing is a method of marketing through Internet which employs social networking websites as a channel to obtain immense amount of traffic and exposure to your product. Its' a simple nature of marketing, in which the content and your customers are your medium of transaction in sales. Your content are the life-blood whereas social media network and websites are veins, which increase your recognition, loyalty and Traffic.
Benefits of Social Media Marketing
Low cost for marketing and its maintenance.
Increased reputation, loyalty and recognition.
Enrich your Brand, Traffic and ROI.
Higher opportunity to spread your products' info.
Improve yourself from the feedback of your customers.
Increase your ratings in search engines.
Easiest way to gain more marketers for your company by converting your customers into executives.
Ways to do Social Media Marketing
Know your customers: You have to analyze in which area, your targeted customers are eager at, by reading their content. Also join in conversation with them.
Create objectives and Goals: Each of our organization will contain short-time and long-time goals. We, as a marketers must have to set goals related to your company's goal to be achieved in social marketing. We should set goals by having time as constraints such as 3-4 month goal or 6-8 months goals.
Planning: Planning should be done in various streams. Things you are going to achieve. How to trap your targeted customers. The content you have to deliver to your customers.
Choose appropriate social marketing websites: You may come across many social sites as marketing sites, networking sites, CRM sites etc. You can choose from them that suits your region. You should have a same profile name for all those sites which you choose.
Create Catchy Contents: Contents are the banners and posters of your company, that advertises you. It may be text, images, links to your blogs or websites or videos. Your content should be short and crisp. Image contents are more preferred to be liked, since it will be easily understood at a look. The more likes, the more brand loyalty.
Post your Blog: Blogs are a great tool of social media which helps you to share more valuable information to others. Sharing your company's blog will proclaims you to all your customers. Post timing and frequency is very important in social media marketing.
Add back Links: Putting your links improve your traffic of your site.
Allocate user roles: Each individual is specialized in each area. When we consider Marketing, if its done as a team they will achieve.This can be done to increase productivity also to avoid efforts overloading and confusions. You can use time tracking softwares (Output Time) for scheduling and allocating tasks.
Increase your ROI: Improve your productivity and profit, by analyzing which area contributes more to increase your sales and profit. For this, we use Google Analytics.
We, at Srimax, also offer the cost-effective and results oriented Social Media Marketing services. As we know the grandness of Social Media Marketing, we emphasize the potential to gain target visitors based on your services.
Our Social Media Marketing services include:
Custom Social networking solutions
Building Google Pages for your site
Blog submission
RSS creation and submission
Facebook Management
Twitter Management
Linked-in Management
YouTube Management
 So,
 Be of Good Courage !
 Get Started with Social Media Marketing !!